Morland Mews Garage Conversions Approved
Islington's planning committee in January unanimously approved our application to convert more of the garages at Morland Mews into ground-level access flats.
Existing estate tenants will be first in the queue for the new flats once they are complete. We will also be building a new community room and a new office for our caretakers and we'll be investing £35,000 in estate-wide improvements agreed with residents.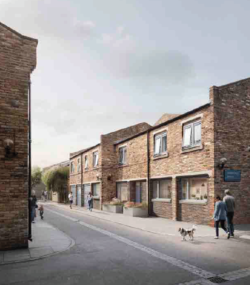 Divided views
'We know there are very strong feelings about the garage conversions, both for and against,' said chief executive Susan French. 'It is a tribute to all of you that you feel so passionately about your neighbourhood. We hope you will continue to hold us accountable and call us out if you think we get things wrong.
'Equally, we hope we can put to rest fears about these plans and hope you will all take a front seat in discussions about how best to plan the work. 'We'll be asking, for example, do we go for speed – getting it all done in one swoop – or should we phase the works?'
What comes next
Our plan is to start the building works in spring 2021. In the run-up we have begun upgrading rubbish and recycling facilities (see right). We are also trying to improve the estate's biodiversity. Other ideas for improvements we want to make at Morland Mews will include:
better lighting and security
upgrading the play and sports areas and the park
more bee-friendly plants and new planters, hanging baskets and green walls, plus two new trees and bat boxes
new charging points for electric buggies and scooters and, for the first time, some bicycle racks
better and fairer parking, garage and storage policies.
---