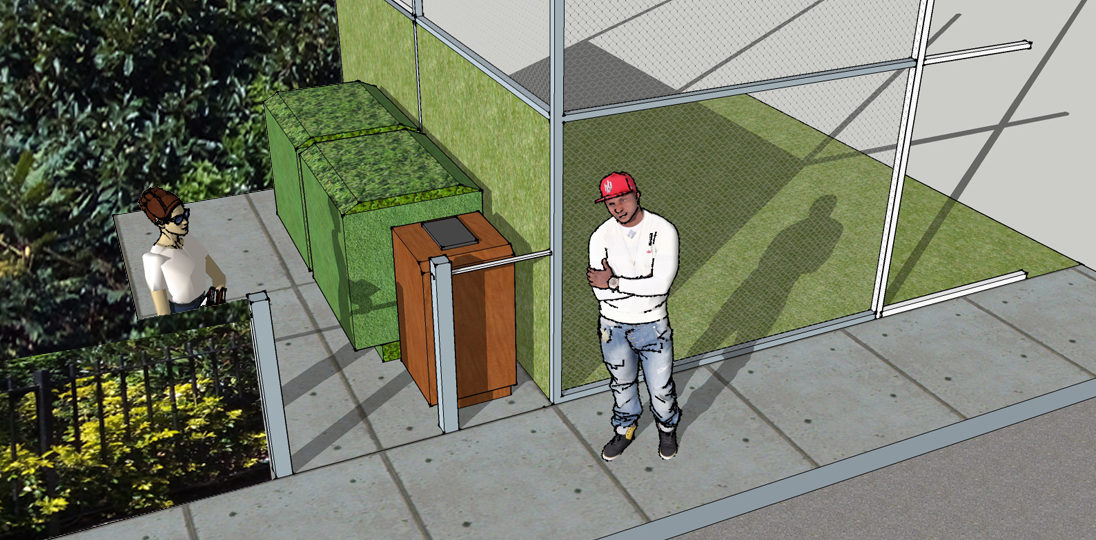 New Bins for Morland Mews
As it stands Morland Mews has no recycling facilities other than the two food recycling bins in the middle of the Mews and at the top site.
There are no specified places for you to put out your
recycling bags. What happens instead is that each household
puts out bags at random spots across Morland Mews.
The bags are picked up by the council on Tuesday mornings. But bags put out too early are left out for several days.They make the estate look messy and the bags often get ripped open by foxes.
General waste, or refuse, is collected by the council
twice a week, on Tuesdays and Fridays. There are bins for this throughout the estate, including stores in Pugin Court, Gissing Walk, Morland Mews and the top site.
BHA have discussed the following three proposals to improve things for Morland Mews residents:
Proposal 1: the top site
Making a new place for more and better bins that would also leave the pathway clear.
By taking out a little bit of shrubbery beside the football pitch we could create a new specially fenced off area with proper paving.
It would have room for more bins. Instead of the two general waste bins and the food recycling bin, there would be room for two waste
bins and two recycling bins.
Clearing the path would make it easier to get to the park. And we hope that with the bins tucked away people would be less likely to dump items here. The new bins would also be easier to use. Instead of lifting a heavy lid, all you would need to do is put your rubbish through a slot.
Proposal 2: Recycling in garage 82
Turning garage 82 into a new recycling facility with
a specially designed door.
The new garage door would have two slots for you to
push through the recycling bags filled with any materials you have that the council is able to recycle.
Metrostor, Islington Council's recycling facility supplier, says it can have made for us a special new garage door
with two slots (see below).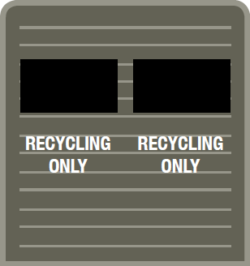 New signage would make it clear that the two slots in this door should only be used for your recycling.
Proposal 3: collecting bulky rubbish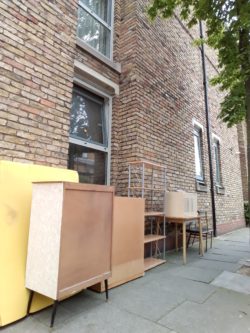 You could use this to store larger items you want to
throw out. When the store gets enough items to avoid
paying the council's minimum charge for one or two items, we would ask the council to collect and dispose of everything in the store.
Garage 83 would be kept secure by our caretakers.
They would monitor the items being deposited there to make
sure everything was safe and that there would be absolutely no risk of fire.
This service would still have to be paid for but there would be no risk of your having to pay the minimum £30 charge. Instead you would pay us £10 for each bulky item andwe would then pay that to the council.
We hope this would encourage all of you to call us for help with bulky waste instead of calling the council or just dumping items. So that would help us to keep your estate clean.
---
To view the whole consultation document please click the image below.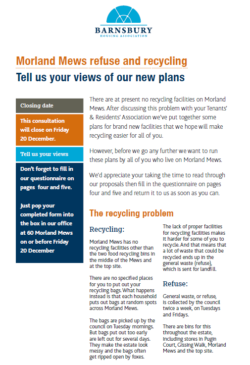 The consultation is open til Friday 20th December.
All Morland Mews residents should have received a consultation document and questionnaire. Please complete your questionnaire and return it to us by this date. If you have not received a document please contact us.
---